We're an affiliate
We hope you love the products we recommend! Just so you know, we may collect a share of sales or other compensation from the links on this page. Thank you if you use our links, we really appreciate it!
If you are wanting to know if you can make scrambled eggs in an air fryer, the answer is yes. Making air fryer scrambled eggs may take a little longer than older methods like cooking on a hob or in the microwave but it is very easy and you will still get your perfect results, if not better than any of the other methods.
Because making air fryer scrambled eggs is much easier, this makes it great if you have kids that love to cook scrambled eggs as it is much safer and there is little mess to clean up at the end.
If you have cooked scrambled eggs using the other methods, you have probably experienced that sometimes your eggs can turn out like rubber, you will not have this problem making air fryer scrambled eggs.
You will find this method very easy, getting your perfect desired results.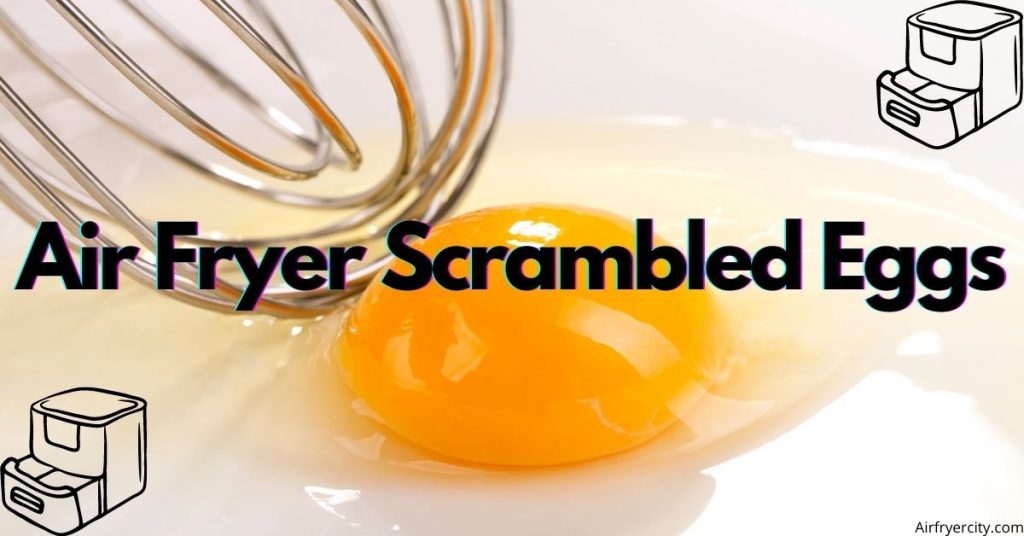 How To Make Scrambled Eggs in an Air Fryer
Ingredients:
Eggs
Butter
Salt
Black Pepper
Method:
Preheat your air fryer to 200 – 220C (The lower the temperature the better your eggs will turn out, they may take a little longer to cook).
Use a small baking dish, suitable size for your air fryer basket. Spread half – 1 tablespoon of butter around the baking dish (We found that 1 tablespoon was perfect for 4-6 eggs).
Crack your eggs into the baking dish & add your preferred amount of salt & pepper.
Give the mixture a good stir using a whisk or a fork until evenly mixed.
Place basket into the air fryer & set the timer for 3 minutes.
Remove the basket & give the mixture a stir & place back into the air fryer for another 2-3 minutes.
Check eggs again, if they are still a bit watery place them back in checking on them every 1 minute (We found that 7-10 minutes was perfect for 4-6 eggs but make sure not to overcook them).
Remove basket & serve.
Please note… Different model air fryers may vary in cooking times.
If you like your scrambled eggs nice, light and fluffy then this method is perfect for you as you can cook them to your preference.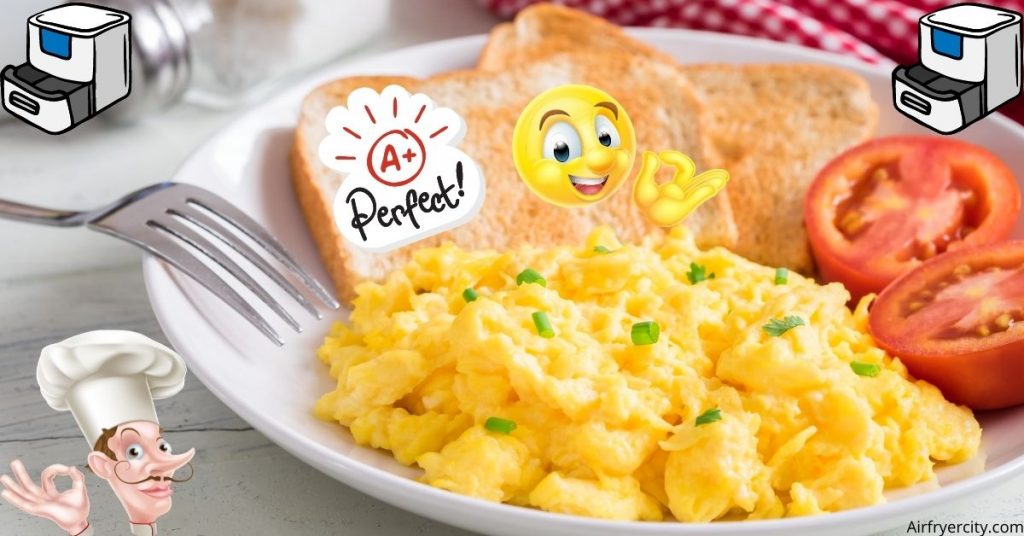 Also See… Can You Fry Bacon in an Air Fryer? All You Need To Know