We're an affiliate
We hope you love the products we recommend! Just so you know, we may collect a share of sales or other compensation from the links on this page. Thank you if you use our links, we really appreciate it!
Air fryer frozen chicken nuggets are the perfect way to make this easy snack. They're crispy, they're juicy, and they're always cooked just right. No longer do you need to use an oven or worry about your chicken nuggets being dry or undercooked!
Chicken nuggets are easy, quick to cook and taste delicious. Kids love the crunchy coating on the outside and the soft inside of these bite-sized morsels. You can serve them as part of a meal or as a snack alongside chips or fries.
Here's what you'll need:
When cooking frozen chicken nuggets in your air fryer, it's important to remember that there are so many different sizes and brands of nuggets on the market. That being said, consider doing a test batch first to get the perfect amount of time for your favourite brand and size nuggets.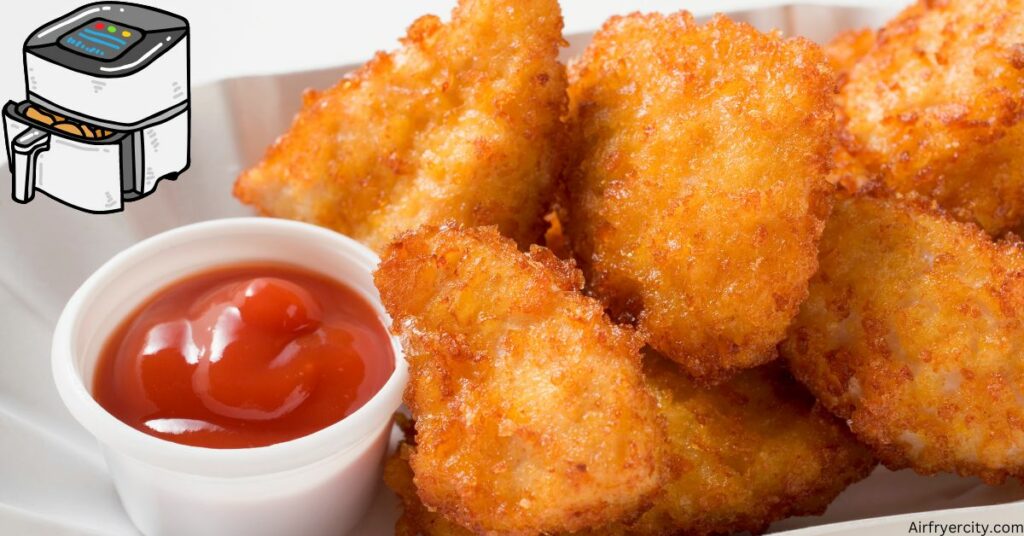 How to Cook Air Fryer Frozen Chicken Nuggets
Preheat the Air Fryer to 400°F.
Place the frozen chicken nuggets in the air fryer basket, making sure there is space between each nugget.
Air fry at 400°F for 8 minutes, turn the nuggets over and cook for an additional 2-4 minutes or until fully cooked and slightly crispy on the outside.
Serve with your favourite dipping sauce and enjoy!
Extra Tips
Follow these tips for maximum results:
To optimize the cooking time and achieve a crispy outer coating, don't overcrowd the basket with nuggets, arrange them in a single layer and leave a little space between them, this allows them to cook evenly.
Conclusion
When it comes to quick and delicious meals, there is nothing better than chicken nuggets. They are a classic favourite, especially for children. But it's not always efficient to fire up the oven and cook these delicious delights. Thankfully, air fryers make it possible to prepare these nuggets in only a few minutes!