We're an affiliate
We hope you love the products we recommend! Just so you know, we may collect a share of sales or other compensation from the links on this page. Thank you if you use our links, we really appreciate it!
If you own an air fryer and love chips but have never tried to cook air fryer chips then you do not know what you are missing. People ask… Can you cook homemade chips in an air fryer? The answer to this is yes and they will be the best homemade chips that you have ever cooked as you use little oil which makes them much healthier and also a lot less greasy.
When you cook homemade chips in an air fryer they turn out golden and crispy on the outside and perfectly soft on the inside and take about 20-25 minutes to cook. Chips are great as they go with many other foods like fish, eggs, burgers, pizza and much more.
With this easy method you will get your perfect desired results every time, if you are a fan of homemade chips then this method is perfect and much healthier than the older methods like chip pans or deep fat fryers as you using very little oil.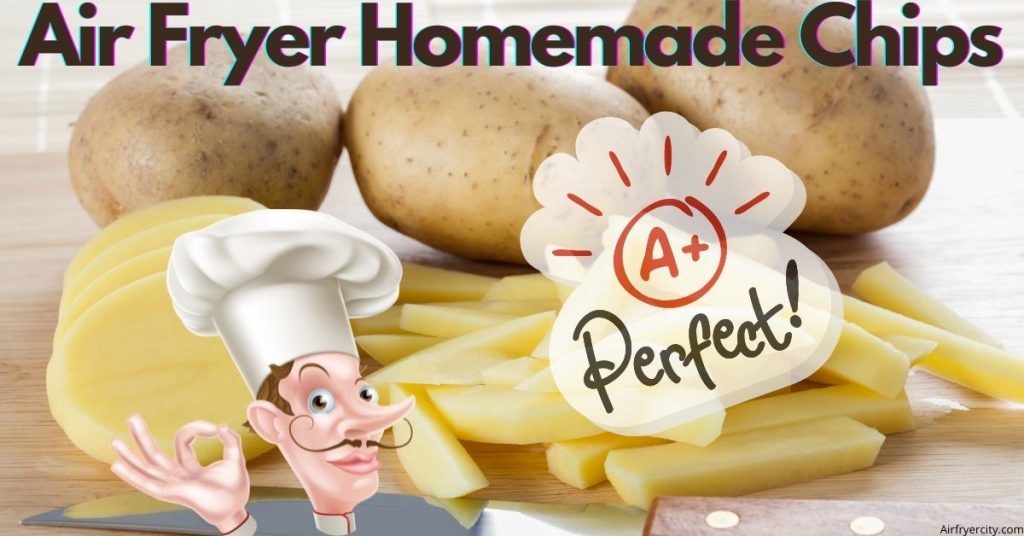 How To Cook Homemade Chips in an Air Fryer
Ingredients:
Potatoes
Salt & Pepper
Cooking Oil (optional but chips may turn out dry without)
Method:
Peel your potatoes and give them a wash under cold water or let them soak in a saucepan.
This is optional but we recommend that you preheat your air fryer to 200C/400F. We found that this shortens the cooking time.
If you have soaked your potatoes in a saucepan, drain them & pat them dry with a clean tea towel or kitchen paper/roll. If you rinsed them underwater pat them to make sure that they are dry.
Cut/slice the potatoes with a potato peeler or a knife to your preferred size, not making them to thin unless you want thinner chips like french fries which will cook quicker, if you like thicker chips they will take a little longer.
Spray your sliced potatoes with oil (you can use no oil but we found this prevents your chips from turning out dry).
Sprinkle salt & pepper over your sliced potatoes, you can also add your other favourite seasonings like garlic, curry powder & paprika etc for extra flavour.
Place your prepared chips evenly into the air fryer basket and set your cooking time to 20-25 minutes, after 10 minutes check on your chips and give the basket a good shake. If you like your chips crispy you can give them another spray with oil. When they have finished check to see if they are cooked to your preference, if they are still a little soft put them back in the air fryer for a couple more minutes to make them more golden brown & crispy.
Remove basket from air fryer & serve.
That is it, with this method you should now be able to cook your perfect homemade air fryer chips. Different air fryer models may vary on times by a few minutes so make sure that you check your chips/fries halfway through.
Also See… Can You Cook Frozen Chips in an Air Fryer? – All You Need to Know