We're an affiliate
We hope you love the products we recommend! Just so you know, we may collect a share of sales or other compensation from the links on this page. Thank you if you use our links, we really appreciate it!
Many people ask… Can you cook carrots in an air fryer? The answer to this is YES. When you think about air fried foods, carrots don't usually come to mind. But the fact is, air frying can make just about any vegetable come out ultra-crispy and delicious. We are talking everything from broccoli to Brussels sprouts to asparagus — and yes, even carrots!
This recipe makes air-fried carrots the perfect side dish and is a delicious way to get more vegetables into your diet. It's also an easy way to cook them if you're not a fan of boiling or steaming your veggies. They cook up in under 25 minutes and are great alongside main dishes like burgers, grilled steak, chicken and pork chops.
Here's what you'll need:
Fresh carrots
Olive oil (you can also use avocado oil and coconut oil)
Kosher salt
Black pepper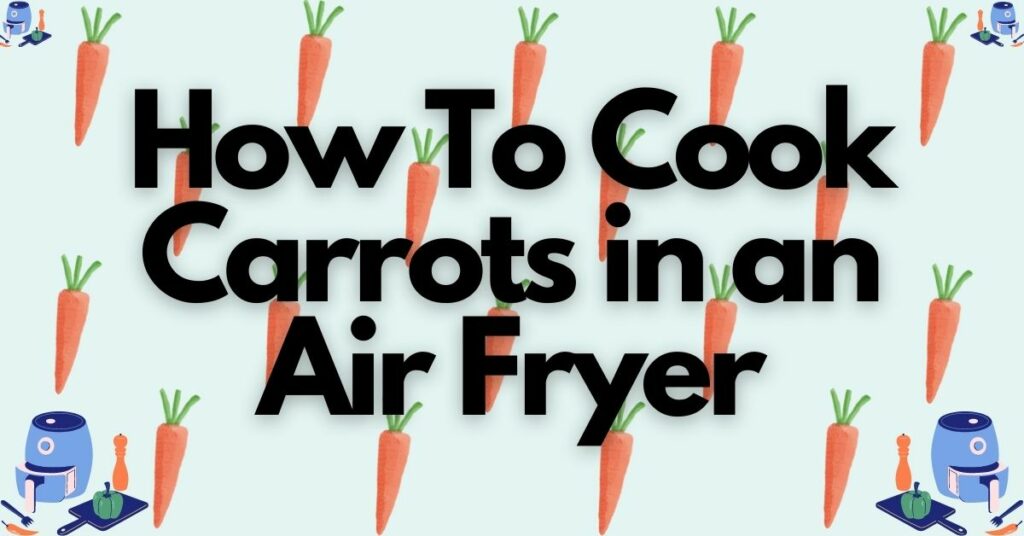 How To Cook Carrots in an Air Fryer
Cooking carrots in your air fryer is a super-easy way to make healthy, delicious carrots without having to turn on your oven. These air fried carrots are so flavourful, you'll never want to eat them any other way!
So, how do you make air-fried carrots? First, peel and rinse your carrots and pat away excess water with a paper towel. Use a vegetable peeler to peel the carrots and then cut or trim the carrots into even-sized pieces.
Next, toss the carrots with olive oil, salt and pepper until the carrots are well coated with oil and seasoning. Transfer the seasoned carrots to your air fryer basket in a single layer without stacking.
Set your air fryer to 380 degrees F for 20-25 minutes. Shake the basket halfway through cooking time. The carrots are done when they are fork-tender with a crisp, outer layer. Season with salt and pepper if desired.
That's it, you are done. Serve and enjoy!
Tips for Better Results:
This recipe also gives you some options for adding seasonings like McCormick's chilli powder, onion powder, Parmesan cheese, Italian seasoning and more. You can even use fresh herbs and garlic powder for an extra punch of flavour!
Conclusion
When you cook carrots in an air fryer, they're crispy on the outside and flavourful all the way through. Carrots are a perfect side dish for just about any meal. They're easy to prepare, tasty and nutritious and if you love sweet carrots, this recipe is sure to become a favourite.
It's a great way to add a sweet touch to your next meal and be sure everyone will enjoy their veggies, and all it takes are 4 simple ingredients that you probably already have in your kitchen!
Also See… Can You Cook Steak in an Air Fryer?