We're an affiliate
We hope you love the products we recommend! Just so you know, we may collect a share of sales or other compensation from the links on this page. Thank you if you use our links, we really appreciate it!
Many people ask… Can you cook pork chops in an air fryer? The answer is yes you can. Pork chops are the perfect main course for weeknight dinners, but they can take a while to cook and sometimes end up dry and chewy.
Cooking pork chops in an air fryer is an easy solution that means perfectly cooked chops with minimal hassle. You can use boneless or bone-in pork chops. This recipe is so easy and there aren't a lot of ingredients, but it's packed with flavour.
Here's what you'll need:
Pork Chops: Start with boneless pork chops or bone-in pork chops, whichever you prefer. Make sure they're at least 1-inch thick so they don't dry out while cooking.
Olive Oil: Rub the pork chops with olive oil, which helps the seasonings stick and keeps them moist on the outside as they cook.
Brown Sugar: Add brown sugar to the seasoning mix – it caramelizes as it cooks, adding a subtle sweetness and making these air fryer pork chops extra delicious! If you prefer a sugar-free recipe, feel free to omit this step.
Seasonings: Season the pork chops with paprika, garlic powder, onion powder, dried thyme (or fresh if you have it), salt and pepper for a delicious flavour that goes perfectly with any kind of side dish (like potatoes or veggies).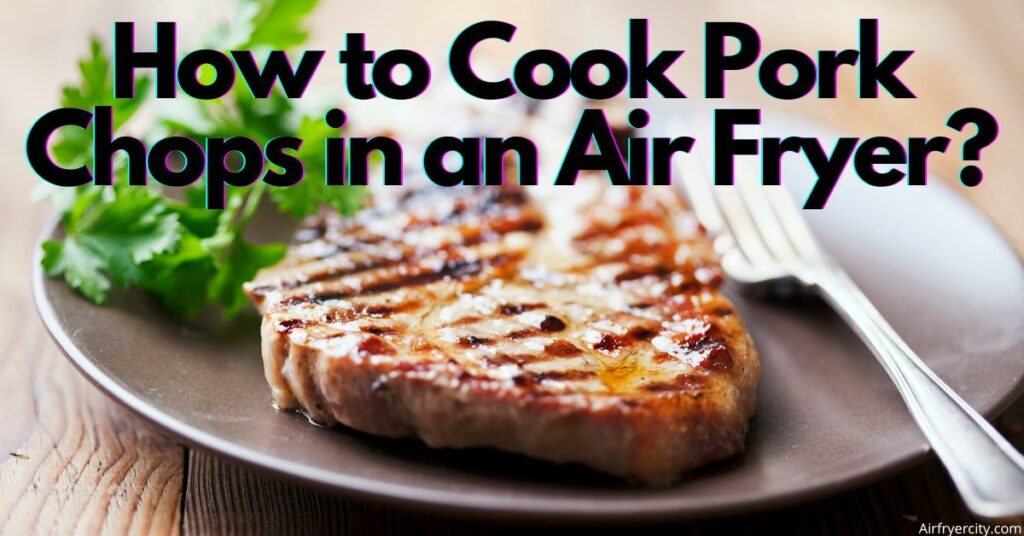 How to Cook Pork Chops in an Air Fryer
You'll want to make sure that your air fryer is preheated to 400° F for 5 minutes before cooking your pork chops.
Pat the pork chops dry with paper towels before rubbing them down with olive oil and seasoning them with the rub ingredients listed in this recipe.
Make sure that you place the pork chops in a single layer in the preheated air fryer basket so they can cook evenly and quickly.
Air fry at 400° F for 5 minutes, then flip and cook for another (for boneless chops), 3-7 more minutes, if cooking bone-in chops 6-10 more minutes. Make sure they are cooked through to at least 145° F.
Let the pork chops rest for 5 minutes after cooking before serving and enjoy!
Extra Tips
Follow these tips for maximum results:
If you're looking to cook pork chops in the air fryer, it's best if they are at least 1-inch thick. This ensures that they won't dry out and become tough more easily.
To get the best results, arrange the pork chops in a single layer in the air fryer basket so they can all get equal exposure to hot air while cooking. If your pork chops are too big to fit in a single layer at once, you can cook them in batches by covering up the first batch while the rest cook.
Once they are nearly done, check them frequently because they finish cooking quickly. Use an instant read thermometer to test if they are cooked to at least 145°F. Once done, let them rest for about 5 minutes before serving so that juices redistribute throughout the meat.
Conclusion
If you're looking for an easy way to cook pork chops that will make everyone at the table happy, look no further! These air fryer pork chops are simple to make and will impress your guests.
Plus, this recipe is perfect for any night of the week. You don't even have to worry about making sides, just serve up some veggies alongside these delicious pork chops and everyone will be happy!
Also See… Can You Cook Frozen Chicken Wings in an Air Fryer?