We're an affiliate
We hope you love the products we recommend! Just so you know, we may collect a share of sales or other compensation from the links on this page. Thank you if you use our links, we really appreciate it!
Many people ask… Can you make sweet potato chips in an air fryer? Yes, you absolutely can and not only can you make them in an air fryer – you also should! Why? Because if you make them in an air fryer, they will turn out the best-tasting, crispiest sweet potato chips you've ever tasted. Plus, they'll have up to 80% less grease and fat than your typical batch of fried sweet potato chips.
Air frying is a cooking method that achieves the same results as deep-frying but with much less fat and grease – and it's surprisingly simple to do.
This recipe serves 2 people!
Ingredients
1 large sweet potato (or yam)
1 tablespoon olive oil
1 ½ teaspoon kosher salt
½ teaspoon pepper
1 teaspoon dried thyme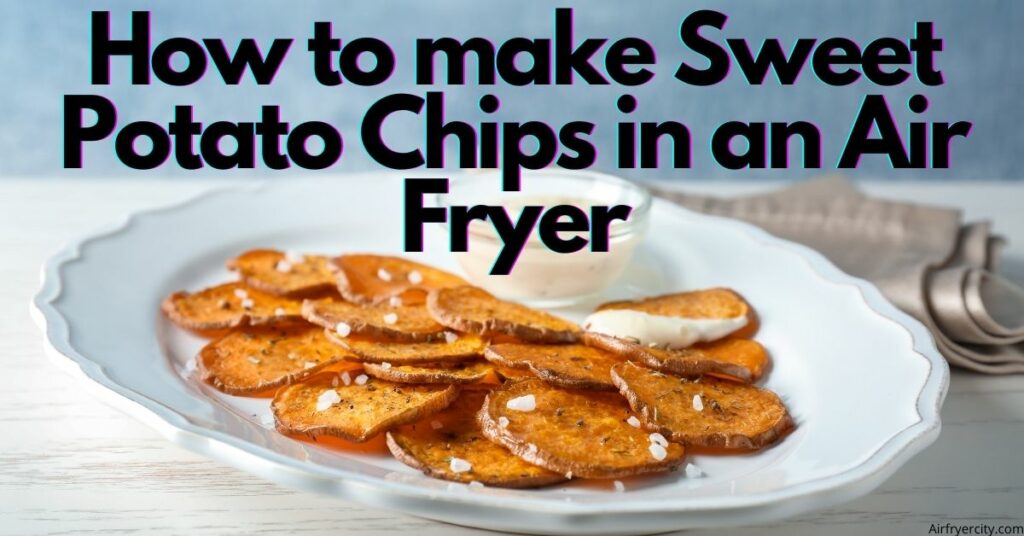 How to make Sweet Potato Chips in an Air Fryer
Making these tasty potato chips in an air fryer instead of using the oven will result in less fat and more flavour since air fryers work by circulating hot air around the food.
Your chips will turn out perfectly crunchy and golden brown if you follow these steps:
Preheat the air fryer to 350°F (180°C).
Cut the sweet potato into 3- to 6-mm slices.
Toss the sweet potato slices into a medium bowl with the olive oil until well coated.
Add the salt, pepper (optional), and thyme and toss to coat.
Place on a single layer in your air fryer basket (cooking in batches if necessary) and cook for 15 minutes until crispy and golden brown.
Serve and enjoy!
Conclusion
In the end, the only downside to making sweet potato chips in an air fryer is that you're unlikely to be able to stop at just one batch. They're delicious, easy to make, and you don't have to turn on your oven for a hot, sticky kitchen so what are you waiting for!