We're an affiliate
We hope you love the products we recommend! Just so you know, we may collect a share of sales or other compensation from the links on this page. Thank you if you use our links, we really appreciate it!
If you have ever wondered if you can cook frozen chicken legs in an air fryer, the answer is yes! Air fryer frozen chicken legs go well with many different sides and are a great way to get dinner on the table fast, even if you forgot to thaw out your chicken.
Chicken legs are affordable and can be flavoured any way you want making them a great budget-friendly option too.
Here's what you'll need:
Chicken Legs or Drumsticks
Olive or Avocado Oil: This is to coat the chicken after it's been thawed so that you get a nice crispy coating for the seasonings to stick.
Seasoning: You can use any seasoning you like, but we recommend Salt, Pepper and Garlic Powder.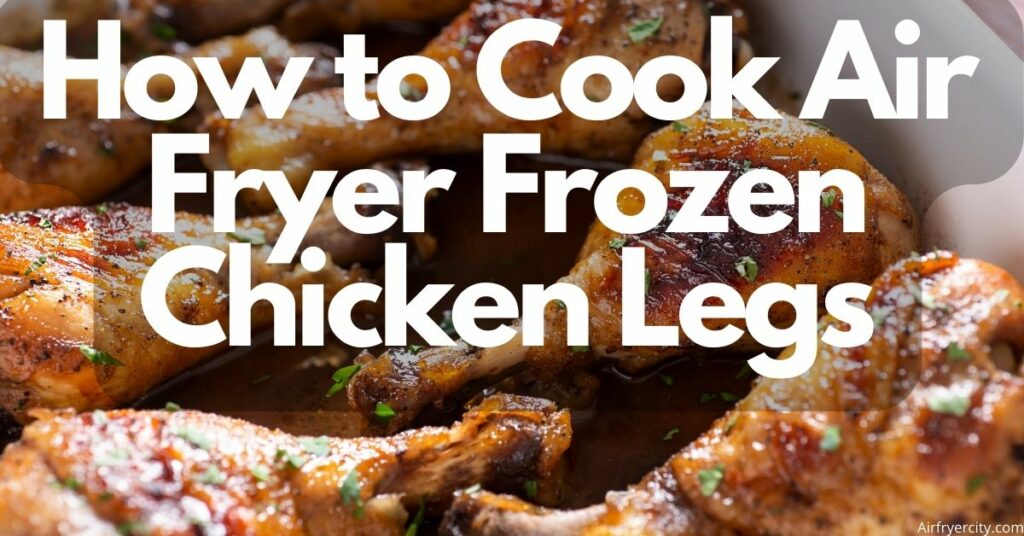 How to Cook Air Fryer Frozen Chicken Legs
1. Place the chicken legs in a single layer in your air fryer basket and set to 375°F for 20 minutes, flipping halfway through.
2. Remove partially cooked chicken legs from the air fryer basket and add to a bowl. Drizzle with oil and sprinkle with seasonings. Toss everything together until the seasoning is coated on the skin of all the chicken.
3. Return seasoned chicken legs to the air fryer basket and set to 400°F cooking for another 15-20 minutes flipping halfway through. Remove, serve and enjoy!
Extra Tips
Follow these tips for maximum results:
The last step of cooking frozen chicken legs in your air fryer will take anywhere from 5-10 minutes, depending on the size of your chicken and the power of your air fryer. It's best to check the chicken every 5-7 minutes until it reaches an internal temperature of 165°F.
If you want to cook frozen chicken quarters in your air fryer, increase the initial cooking time by 10-15 minutes. Then just follow the steps of the rest of the recipe.
Conclusion
Cooking chicken legs in an air fryer is a great way to get dinner on the table quickly and easily. The chicken turns out tender and juicy on the inside, and crispy on the outside. We hope that you enjoy this recipe as much as we do. It's delicious, easy, and versatile!
Also See… Can You Cook Frozen Chicken Wings in an Air Fryer?