We're an affiliate
We hope you love the products we recommend! Just so you know, we may collect a share of sales or other compensation from the links on this page. Thank you if you use our links, we really appreciate it!
Onion rings are another popular dish with many families as you can add them to many other dishes or just cook them for a snack. If your asking… Can you cook frozen onion rings in an air fryer? The answer to this is YES. Air fryer onion rings are much more healthy than older methods like deep fat fryers as you use little or no oil.
This method is very easy and your onion rings will turn out golden brown and crispy in very little time making these perfect for kids to cook if they want a snack.
How To Cook Frozen Onion Rings in an Air Fryer
Pre heating your air fryer is opional but we reccomend that you do as it shortens the cooking time and the onion rings will cook more evenly.
Method:
Preheat your air fryer to 350°F/180°C
Place your frozen onion rings into the air fryer basket (DO NOT overfill your basket as there needs to be enough room for the hot air to circulate).
Cook for 4-5 minutes, shaking the basket halfway through (If the onion rings start to look a little bit dry, give them a spray with a little bit of oil).
Remove from air fryer & let stand for 1 minute (If still a little soft, place basket back in the air fryer for another 1 minute).
Serve & enjoy
Please Note… Diffrent model air fryers may vary in cooking times.
Simple Air Fryer Cookbook with Pictures
Cooking onion rings in an air fryer is much faster than any of the other methods, still giving you perfect results, if not better. These are great as they go with many other foods like steak and chips, egg and chips and much more or you can just have them as a snack and dip them in ketchup or any of your other favourite sources.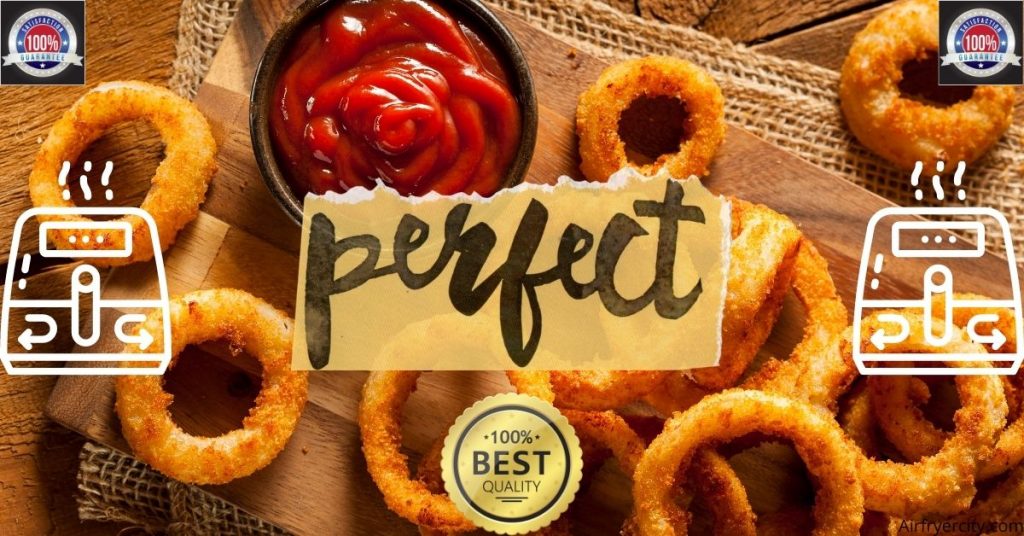 Also See… Can You Cook Frozen Pizza in an Air Fryer? – All you need to know