We're an affiliate
We hope you love the products we recommend! Just so you know, we may collect a share of sales or other compensation from the links on this page. Thank you if you use our links, we really appreciate it!
Many people ask… Can you cook shrimp in an air fryer? The answer to this is YES. Everyone loves crispy, crunchy fried shrimp but no one loves all the oil and excess calories that come along with it. Using an air fryer is a great alternative because it does just as good of a job at crisping up food without needing to use any oil.
In this recipe, we use breadcrumbs and Parmesan to give the shrimp that cracker-like texture we all love so much. You can eat this shrimp dish as an appetizer or a meal. It's such an easy and delicious dinner that you'll have on the table in no time!
Here's what you'll need:
Shrimp – Loaded with protein and easy to cook in just minutes – make a hearty, healthy meal. Plus, the crispy Parmesan breading from this recipe is guaranteed to delight everyone (even kids!).
Eggs – They help the bread crumbs stick to the shrimp.
Lemon – Both the juice and the zest – gives a dish brightness and a bit of acidity.
Breadcrumbs – As with many air fried chicken recipes, tasty breading is very important. Italian-seasoned breadcrumbs are the best choice, adding flavour without any extra work.
Parmesan – This adds a rich, cheesy flavour to the breadcrumb mixture.
Spices – You can use garlic powder, dried parsley, dried oregano, salt, and pepper to flavour your shrimp.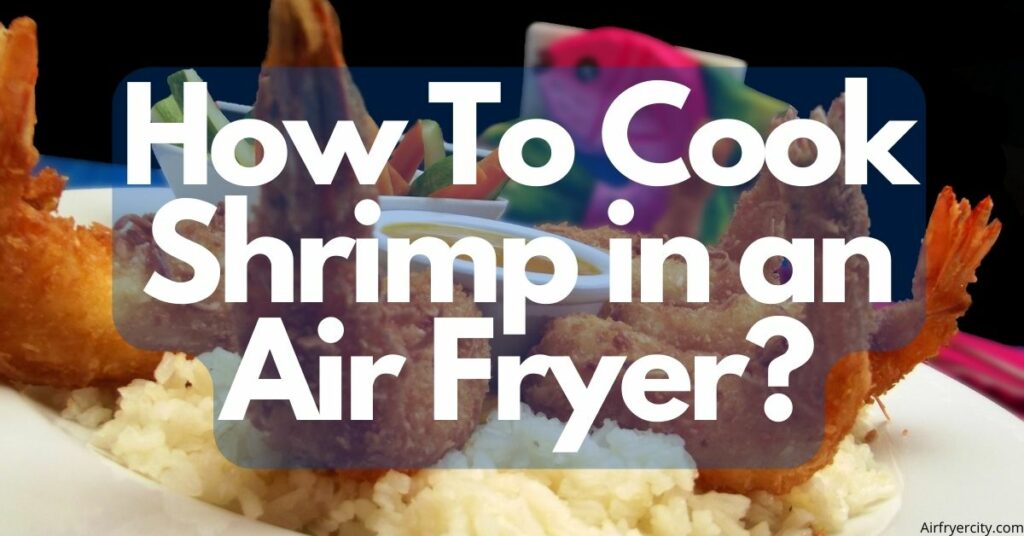 How to Cook Shrimp in an Air Fryer
Shrimp, shrimp, and more shrimp! Turn your air fryer into a one-stop-shop for delicious, perfectly cooked shrimp. We're not going to lie: you might want to make some extra because these are going to go fast.
You'll need to start by drying the shrimp. Then, toss them with lemon zest and juice and spices of your choice – we love garlic powder and red pepper flakes. Let it sit for 15 minutes at room temperature or 1 hour in the refrigerator, then get ready to cook.
First, stir the breadcrumbs and Parmesan together in one dish, then beat an egg in another dish. Dip each piece of shrimp into the egg, then into the breadcrumb mixture. Lay the shrimp in the basket of an air fryer and coat with non-stick spray. Cook at 390˚F for 4 minutes total – two minutes on each side – and repeat until all your shrimp is cooked through!
That's it! Enjoy your crispy, delicious shrimp!
Tips to Store
Want to know how to store your shrimp and keep it fresh? Or how you can reheat your leftovers? We've got you covered with some simple tips on freezing, refrigerating, and re-crisping!
How to Store Shrimp
Shrimp should always be stored in the refrigerator. To prevent the shrimp from spoiling, it's important to store them in an airtight container. They will last for up to 3 days.
How to Reheat Shrimp
The best way to reheat shrimp is in the air fryer or oven. You will want to re-crisp the shrimp by heating it at 350˚F.
How to Freeze Shrimp
If you want to freeze your leftover shrimp, you can store them in an airtight container and freeze them for up to 3 months. You can also cook the shrimp and then freeze it, but you may find that the texture of the shrimp changes a little bit after it has been frozen and thawed.
Last update on 2023-09-25 / Affiliate links / Images from Amazon Product Advertising API
Conclusion
If you need a healthy, super-fast meal idea for your family, we highly recommend this one. Cook a big batch of shrimp, save the leftovers for meals throughout the week or freeze for another day (or toss 'em in a pot of pasta for a quick shrimp scampi).
This shrimp recipe is also ridiculously easy to whip up, making it one of your go-to meals on nights when you just have no idea what to make for dinner. When you're hungry and running low on time, it's always best to stick with easy recipes – this air frying method proves that healthy food doesn't have to be complicated!