We're an affiliate
We hope you love the products we recommend! Just so you know, we may collect a share of sales or other compensation from the links on this page. Thank you if you use our links, we really appreciate it!
If you want to know if you can you cook baked potatoes in an air fryer? The answer is yes! Cooking baked potatoes in an air fryer delivers perfect tasty results every time. Baked potatoes are a great food to go with grilled steaks, or as a main dish with a salad. Air fryers make fantastic baked potatoes that are crispy on the outside and soft on the inside.
Baked potatoes are a tasty alternative to a main dish or a side, they're great for entertainment, because you can make them ahead of time, and delicious for any occasion.
It's the perfect recipe for a weeknight dinner: easy to make, and all you need are three basic ingredients.
What you'll need:
Russet potatoes, also known as Idaho potatoes (try making sure all the potatoes are the same size for even cooking)
Olive oil (or cooking spray)
Fine sea salt (or the salt you have on hand)
How to Cook Baked Potatoes in an Air Fryer
Start by scrubbing the potatoes under running water then pat dry thoroughly. Poke the potatoes with a fork on all sides so that the steam can escape during cooking.
Rub the potatoes with oil and salt, making sure the oil coats each side of the potato evenly.
Now place the potatoes in the basket-style air fryer for about 30 minutes at 400˚F until cooked through and easily pierced with a knife.
Turn over your potatoes and cook for an additional 5-15 minutes until done to your liking (the more time they cook after you flip them, the crispier they will become).
How do you know when your baked potato is cooked?
When done correctly, the baked potato will be soft on the inside and slightly crispy on the outside. The potato skin should be able to be pierced with a fork or knife.
You can easily tell if your baked potatoes are undercooked by checking the skin after a few minutes in the air fryer. If it isn't turning crisp, your potatoes need a longer cooking time.
You see, there's no exact time for cooking baked potatoes in an air fryer. It will depend on the size of your potatoes and the power of your air fryer machine. But don't worry, because if you follow these instructions, you'll be able to cook perfect potatoes every time.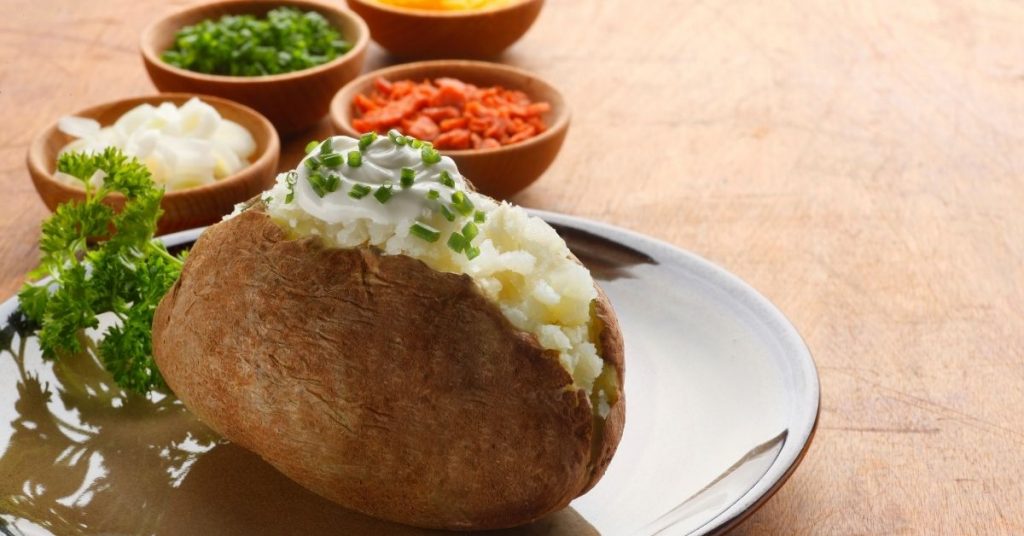 Toppings
Baked potatoes are a blank canvas, ready to be topped with whatever you can think of. With the right combination of ingredients, they're delicious and healthy too.
Here are some of our favourite toppings:
Salt is always a good idea. Sprinkle on a little extra for flavour.
Butter adds an extra layer of creamy goodness. Dot cut potatoes with butter and let it melt over the spuds.
Sour cream is also good for flavour and creaminess. Add a generous dollop for added deliciousness.
Bacon bits are a great way to add smoky bacon flavour without the need for cooking them yourself! These will turn a regular baked potato into something special.
Shredded Mexican or cheddar cheese is also classic and tasty. You can't go wrong with this one.
Everything bagel seasoning can give your baked potato an interesting twist—it's great if you want to kick up the sassiness just a little bit in your life.
Jalapeno peppers are really easy to add, and they'll kick your potato up to spicy new heights! Sliced or diced jalapenos give you more control over the heat level too.
Once you try out these air fryer baked potatoes, you'll be saying goodbye to microwave/oven potatoes for good. They are quick, simple, and fun to make. You can serve them in a variety of ways and they work great if you need a few tasty side dishes or filling appetizers.
Air fryer baked potatoes are a fun way to mix up your meal routine, not only can you choose any toppings, but you will love the different texture and flavour you get with this cooking technique.
The cook time is quick and easy, so you won't spend hours in the kitchen on a busy night. These fluffy spuds will disappear off your plate in a flash, so be sure to make a lot.
Also See… Can You Cook Steak in an Air Fryer?