We're an affiliate
We hope you love the products we recommend! Just so you know, we may collect a share of sales or other compensation from the links on this page. Thank you if you use our links, we really appreciate it!
Indulge in a classic air fryer ham and cheese toastie with this quick and easy-to-make recipe. For a delectable variation, give gruyere a try instead of cheddar.
If you don't have sourdough bread on hand, worry not – opt for any bread that suits your taste.
Here's what you'll need:
20g softened butter
2 slices of sourdough bread or any other bread that you prefer
½ tsp English mustard
50g grated mature cheddar or gruyere cheese
1 tbsp chopped chives (optional)
1 thick slice of ham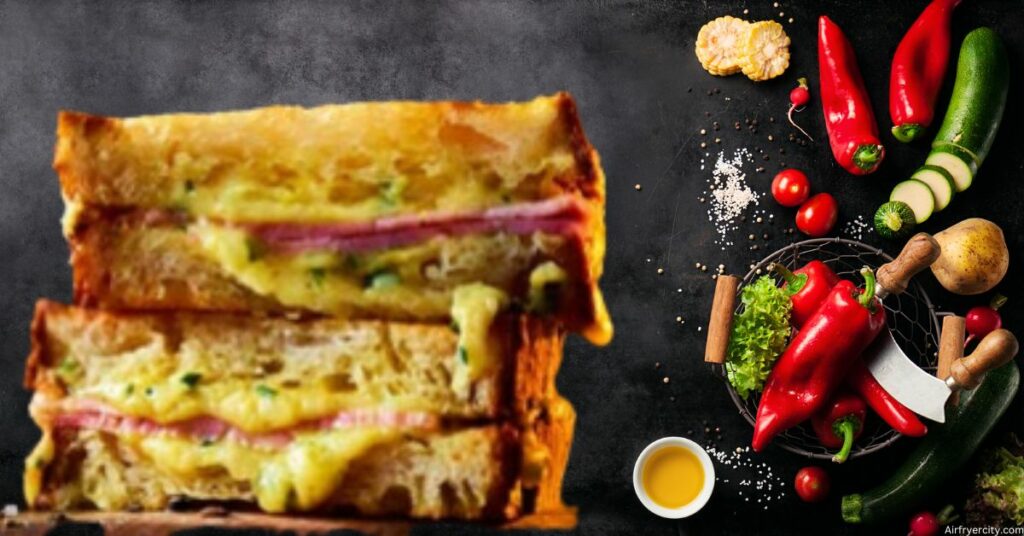 How to Make an Air Fryer Cheese and Ham Toastie
Preheat your air fryer to 190°C.
Butter one side of each slice of bread.
In a bowl, combine the remaining butter with mustard, grated cheese, and chopped chives (if using). Season with black pepper.
Spread the cheese mixture over the plain side of each bread slice.
Place the ham slice between the two bread slices with the buttered side facing outwards.
Air-fry the sandwich for about 10 minutes, turning it once until it is golden and crunchy on the outside and the cheese is melted in the middle.
Enjoy your delicious cheese and ham toastie!
Feel free to customize the recipe by adding any additional ingredients or spices to your liking. Happy cooking!
Last update on 2023-11-30 / Affiliate links / Images from Amazon Product Advertising API
Conclusion
To sum it up, the air fryer cheese and ham toastie is a timeless and delicious treat. With the option to use gruyere instead of cheddar and any type of bread you prefer, it's a versatile recipe that can be customized to suit your taste.
Enjoy the perfect combination of melted cheese and savoury ham with the convenience of cooking it in your air fryer.
Also See… Air Fryer Frozen Burgers