We're an affiliate
We hope you love the products we recommend! Just so you know, we may collect a share of sales or other compensation from the links on this page. Thank you if you use our links, we really appreciate it!
Air fryer frozen burgers are an excellent option for a busy weeknight dinner. Not only is the process simple and easy, but it also makes for a healthy and delicious dinner that will please the whole family.
Cooking frozen burgers in an air fryer is much quicker than cooking them in a pan or under the grill. If you're looking for an easy dinner that tastes great and can be done in just minutes, this is the recipe for you. Plus, they go perfectly with air fryer frozen chips.
Here's what you'll need: 
The best thing about this method is that you don't need to add any additional ingredients. Some frozen burgers are already seasoned, so read the packet before cooking to decide if you need to add anything else.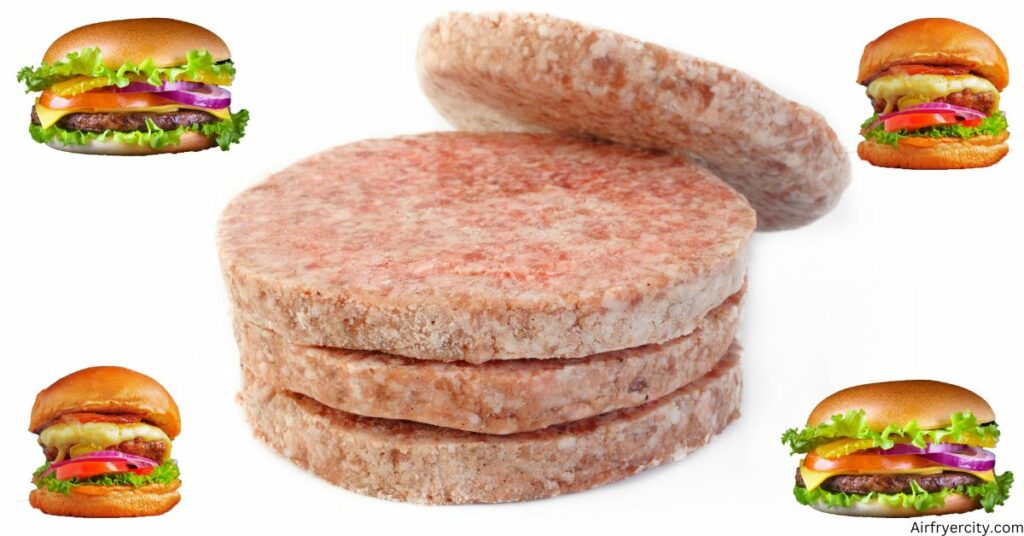 How to Cook Frozen Burgers in an Air Fryer
For frozen burgers, there's no need to preheat the air fryer. Simply place the frozen burger patties in the air fryer but do not stack them.
Cook the burgers for 15 minutes at 180C/360F, flipping once for even cooking. If cooking thinner patties, cook for just 10 minutes or until cooked through.
If you want to top the burger with cheese, add it 45 seconds before the end of the cooking time and let it melt.
Carefully remove the cooked burgers from the air fryer basket and place them on hamburger buns with your favourite toppings.
Serve and enjoy!
Extra Tips:
The first tip when cooking frozen patties in the air fryer is to avoid piling them on top of each other. In other words, don't stack the frozen patties in the basket.
The size of the burgers will determine how long they take to cook.
Remember to flip the burgers over halfway through the cooking time so both sides cook evenly.
Conclusion
So, there you have it! Air fryer frozen burgers are the perfect solution to your weeknight dinner dilemmas. They're easy to make, they taste great and they'll please the whole family. Just add your own sides and you're good to go!
Also See… Air Fryer Hot Dogs