We're an affiliate
We hope you love the products we recommend! Just so you know, we may collect a share of sales or other compensation from the links on this page. Thank you if you use our links, we really appreciate it!
Indulge in these irresistible air fryer sticky chicken bites, generously coated with a sweet and gooey sauce!
Whether enjoyed as a cheeky snack or served with a fresh salad and a side of potatoes, this dish makes for a delightful and fulfilling meal.
Here's what you'll need:
70g (1/2 cup) plain flour
1/2 tsp salt
1/2 tsp garlic powder
1 tsp onion powder
2 tsp sweet paprika
1/4 cup corn flour
2 eggs
500g chicken breast, cut into 2cm pieces
Green shallots, sliced, to serve
Toasted sesame seeds, to serve
Sticky sauce:
1/3 cup barbecue sauce
2 tbsp sweet chilli sauce
2 tbsp honey
40g butter, chopped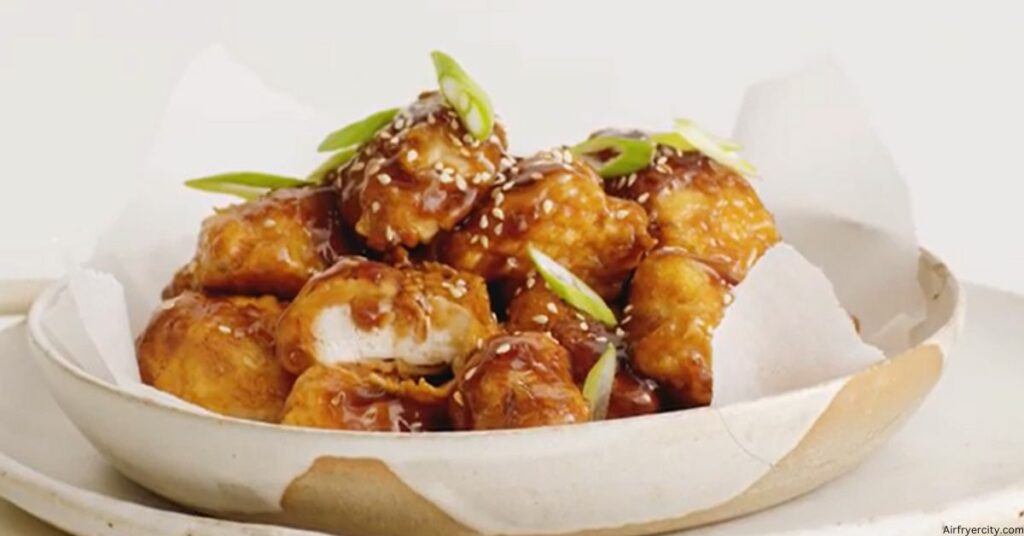 How to Cook Air Fryer Sticky Chicken Bites
Combine the plain flour, salt, garlic powder, onion powder and paprika in a shallow bowl.
Place the corn flour in a separate shallow bowl, and the eggs in another shallow bowl. Lightly whisk the eggs.
Dip the chicken pieces into the corn flour, shaking off any excess, then dip into the egg, and finally the seasoned flour. Shake off any excess.
Place half of the chicken pieces in the basket of an air fryer and spray with oil. Air fry at 180°C for 10 minutes. Set aside and keep warm. Repeat with the second batch and place in a bowl.
To make the sauce, mix all ingredients in a saucepan over medium heat. Cook, stirring occasionally for 2-3 minutes, then pour over the chicken and gently toss to coat.
Transfer chicken to a serving bowl and sprinkle with green shallots and toasted sesame seeds. Serve immediately.
These mouthwatering chicken bites are delicious as a snack or as part of a complete meal, served with a salad and a side of potatoes!
Last update on 2023-11-30 / Affiliate links / Images from Amazon Product Advertising API
Conclusion
To sum it up, these air fryer sticky chicken bites are a delectable treat that is hard to resist. With their crispy coating and sticky sweet sauce, they offer a perfect balance of flavours and textures. Whether enjoyed as a snack, appetizer, or part of a main meal, these chicken bites are sure to satisfy your cravings.
Give them a try and indulge in a deliciously tempting dish that will leave you wanting more!
Also See… Air Fryer Sticky Pork Belly Bites