We're an affiliate
We hope you love the products we recommend! Just so you know, we may collect a share of sales or other compensation from the links on this page. Thank you if you use our links, we really appreciate it!
Air fryer salmon fillets are a tasty and healthy way to enjoy seafood. Cooking salmon in the air fryer creates a tasty outside and a moist interior, making for a perfect meal that is both flavourful and convenient.
It's a great option for nights when you're short on time or entertaining guests.
Here's what you'll need:
1 slice of day-old bread
25g melted butter
2 tsp chopped fresh dill, plus extra for serving
2 tsp chopped fresh chives
2 skinless salmon fillets (about 180g each)
Extra virgin olive oil, for serving
Lemon wedges, for serving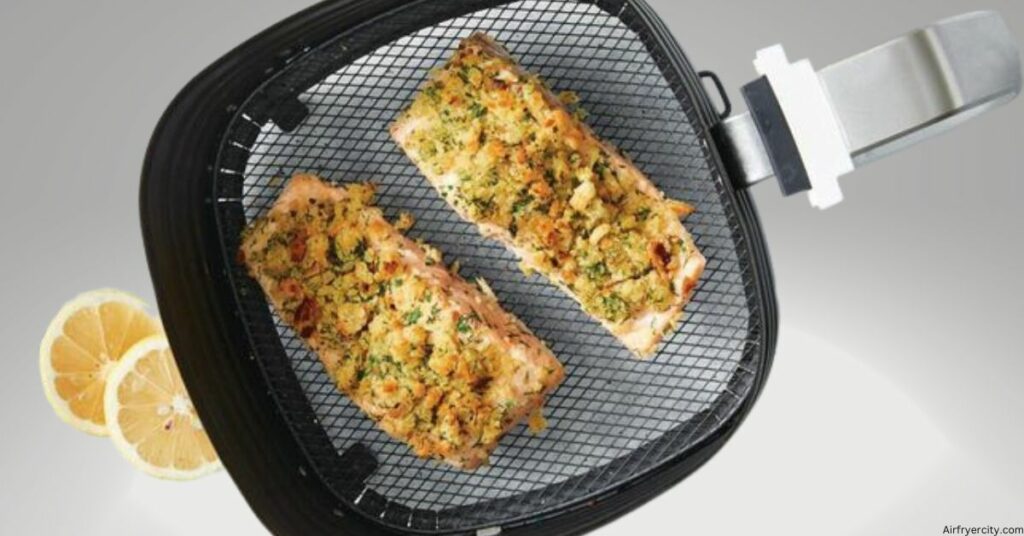 How to Cook Air Fryer Salmon Fillets
In a small food processor, process the day-old bread until fine crumbs form. Transfer to a bowl.
Add melted butter, chopped fresh dill, and chopped fresh chives to the bowl. Season with salt and pepper. Stir well to combine.
Press the breadcrumb mixture over the top of each salmon fillet.
Place the herb-crusted salmon in the air fryer basket.
Cook for 4 minutes at 180°C or until the salmon is cooked to your liking.
Drizzle with extra virgin olive oil and serve with lemon wedges and fresh dill.
Note: You may need to adjust the cooking time and temperature based on your specific air fryer model and personal preferences.
Enjoy your delicious air fryer salmon fillets meal!
Last update on 2023-09-20 / Affiliate links / Images from Amazon Product Advertising API
Conclusion
To sum up, air fryer salmon fillets are a simple and tasty seafood dish that can be enjoyed on any occasion. The air fryer technique creates a perfectly cooked fish that is crispy and flavourful, while still retaining its moisture and tenderness. Incorporating these salmon fillets into your meal rotation is an excellent way to add a healthy protein source to your diet.
Also See… Can You Cook Salmon in an Air Fryer?