We're an affiliate
We hope you love the products we recommend! Just so you know, we may collect a share of sales or other compensation from the links on this page. Thank you if you use our links, we really appreciate it!
If you're looking for a breakfast that's easy to make and will give you some serious energy, try this air fryer breakfast sandwich. It's delicious, and the recipe is simple to follow.
Want a quick and easy breakfast recipe, this recipe is for you. This air fryer breakfast sandwich is packed with sausage or bacon, egg and cheese and it's the perfect combination to get your day started off right!
Here's what you'll need:
3 eggs
¼ cup milk
2 English muffins or 4 slices of bread
4-6 slices of sausage strips or bacon (your choice)
Cheese slices of your choice (such as American cheese, cheddar cheese, mozzarella cheese, Monterey jack cheese, etc.) (optional)
1 tablespoon Butter (if using bread) (optional)
The best part about breakfast sandwiches is that they are so versatile!
They can be made on English muffins, bread slices, a tortilla, a bagel, a biscuit, or any type of bread (just make sure it's your favourite for ultimate delicious tasty results!).
You can use any kind of cheese you like or leave the cheese out altogether. Just remember to use butter or oil if you are using bread to help the bread toast and be crispy.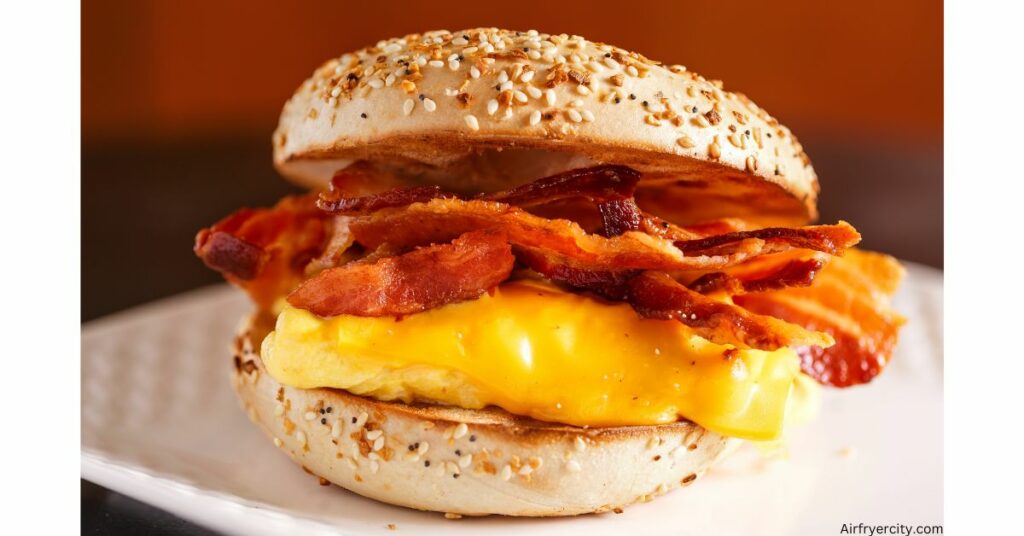 How to Make an Air Fryer Breakfast Sandwich
First, cook your egg patties and strips of bacon or sausage. It will be quicker if you cook the eggs on the stovetop or in the microwave while the bacon or sausage cooks in the air fryer basket.
Egg Patties
Whisk the eggs with the milk in a bowl, then cook them on the stove or in the microwave until they are scrambled and about the size of your English muffins or bread. Season with salt and pepper if desired.
Sausage/Bacon strips
Place the sausage/bacon strips in the air fryer basket and cook at 400˚F/204˚C for 5-7 minutes. Then cut into bite-size pieces that are large enough to fit on your English muffin or bread.
After you've prepared your sandwich ingredients, follow these simple steps:
Assemble the sandwich by placing one piece of bread or English muffin on the plate, then add an egg patty, 2-3 pieces of sausage or bacon, and a slice of cheese (optional). Then place another piece of bread or English muffin on top.
If you are using bread slices, butter the outside of each slice, or spray with oil. This will help the sandwich get toasty.
Place the prepared sandwiches in the basket of your air fryer, lined with parchment paper.
Cook the sandwiches for 4 minutes at 360°F or 180°C.
Let cool for 1-2 minutes, then serve and enjoy!
For 3 eggs, you can make two sandwiches. This recipe will feed 1 to 4 people, depending on how hungry they are.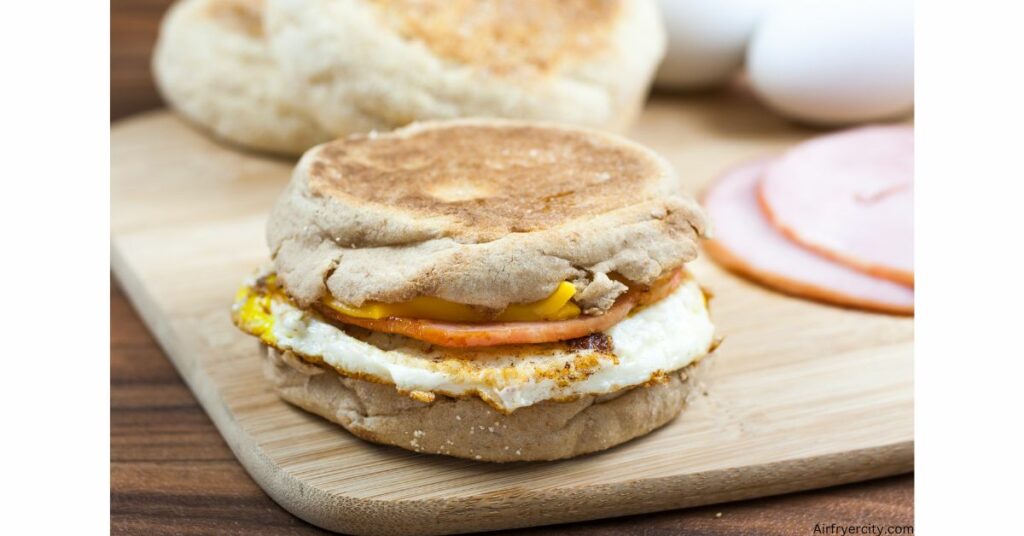 Conclusion
This air fryer breakfast egg, sausage/bacon, and cheese sandwich is a tasty and healthy grab-and-go breakfast that will set you up for the day. This recipe is easy to prepare and a good source of protein as well as flavour!
View all of our other Air Fryer recipes Here