We're an affiliate
We hope you love the products we recommend! Just so you know, we may collect a share of sales or other compensation from the links on this page. Thank you if you use our links, we really appreciate it!
Have you ever wondered whether or not you can cook hot dogs in the air fryer? Well, the answer is "YES"! Air Fryer hot dogs are the best way to make hot dogs at home.
Air-fried hot dogs are perfect for when you want to keep things simple but flavourful. They're ready in just a few minutes, and they'll never be dried out or overcooked because of how fast they cook. Plus, you won't need to spend any time outside grilling over charcoal or propane, you can just stay inside and crank up your air fryer!
Here's what you'll need:
You only need one thing for this recipe: Your favourite hot dogs!
The air fryer can cook as many hot dogs as you can fit in it, so long as they don't overlap or touch each other.
The key to making sure your hot dogs turn out perfectly is to make sure they have room to breathe in the air fryer. The circulating hot air from the convection air fryer will be able to surround each hot dog and give them a beautifully browned, crispy, snappy exterior.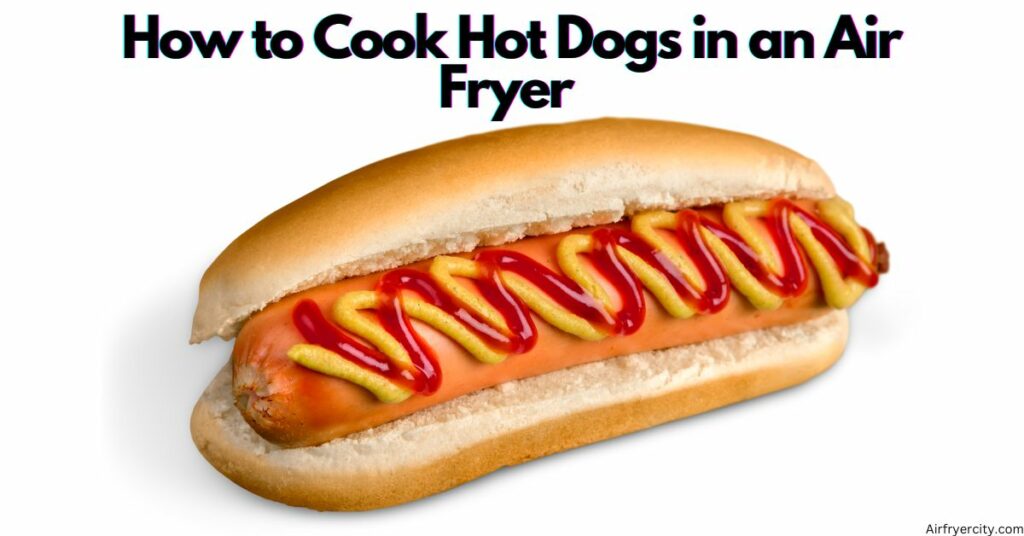 How to Cook Hot Dogs in an Air Fryer
In just 5 minutes, an air fryer can cook your hot dogs to perfection!
Pierce the hot dogs with a knife or fork, so that they have little slits in them. This allows trapped air to escape during cooking.
Place the hot dogs in your air fryer basket, leaving a little space between each.
Air-fry your hot dogs at 390°F/195°C for 4-5 minutes.
Finally, place the hot dogs on the buns, and then top with your favourite condiments.
These hot dogs can be topped with ketchup, mustard, relish, onions, piccalilli (pickled veggies in mustard sauce), and all the other toppings of your choice.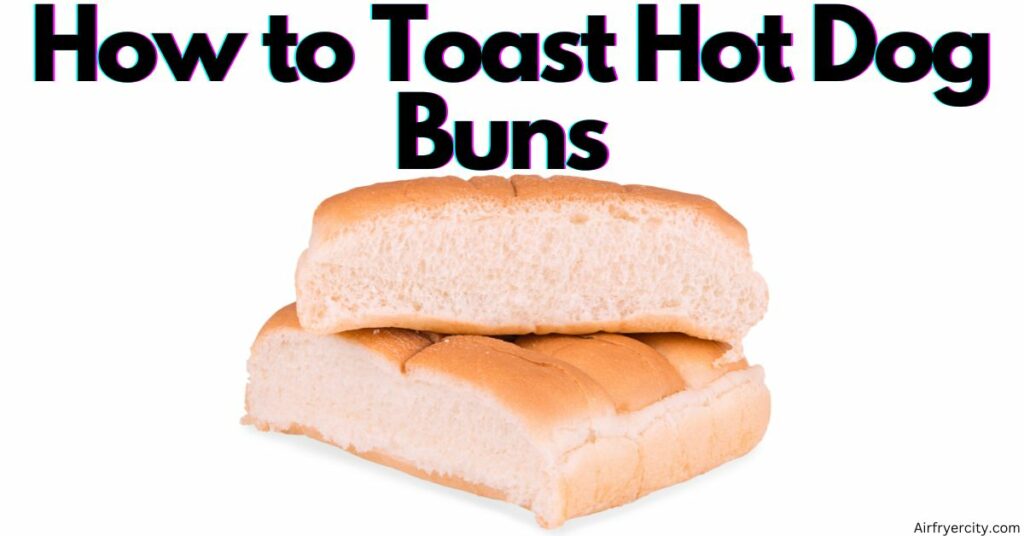 How to Toast Hot Dog Buns
Sometimes you might just want a hot dog on a fresh bun, but other times, you want to make your hot dog buns warm and toasty. You can toast hot dog buns in the air fryer easily by following these simple steps:
Once your hot dogs are cooked, remove them from the basket and put them on a plate. Cover with foil to keep them warm while you prepare the toasted buns.
Place the split hot dog buns into your air fryer basket. Set the temperature to 390°F/195°C, and cook for 2-4 minutes, or until they're toasted as desired.
But one thing that can be a little tricky is toasting buns in an air fryer – they tend to fly around!
We've got a tip for how to keep your hot dog buns down while they toast: Use a trivet or a metal butter knife to weigh them down so they stay put.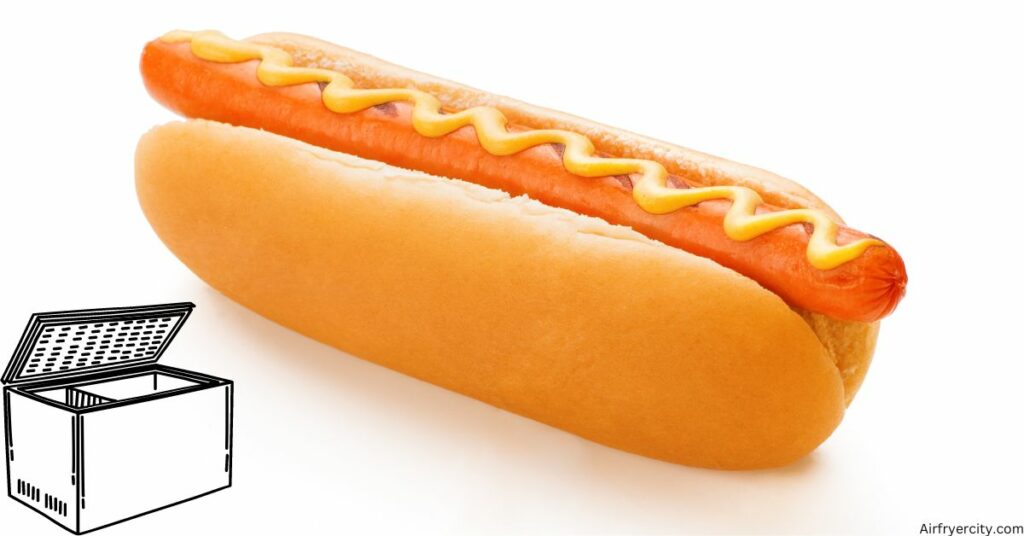 How to Cook Frozen Hot Dogs in an Air Fryer
Slice 3-5 little slits with a knife on the top of each hot dog to ensure they won't burst open when air frying from frozen.
Place frozen hot dogs inside the basket and cook at 350°F for 7-8 minutes.
Once your hot dogs are done, carefully remove them from the basket using tongs and enjoy!
Conclusion
Air-fried hot dogs are great because they're easy to make and fun to enjoy. You can customize your hot dog with whatever toppings you like best and there are tons of regional "right ways" to top a hot dog. You should try them all!
Also See… Air Fryer Corn Dogs