We're an affiliate
We hope you love the products we recommend! Just so you know, we may collect a share of sales or other compensation from the links on this page. Thank you if you use our links, we really appreciate it!
Get ready to indulge in the irresistible goodness of these tender air fryer sticky pork belly bites drizzled with a heavenly golden syrup sauce!
With a cooking time of just 40 minutes, you can enjoy these perfectly juicy and crispy bites in no time.
Here's what you'll need:
1kg piece boneless pork belly
1 tbsp brown sugar
3 tsp smoked paprika
2 tsp plain flour
1 tsp onion powder
1/2 tsp garlic powder
Olive oil spray
Sticky Golden Syrup Sauce:
50g butter
2 tbsp golden syrup
2 tbsp barbecue sauce
1 tbsp bourbon
2 tsp sriracha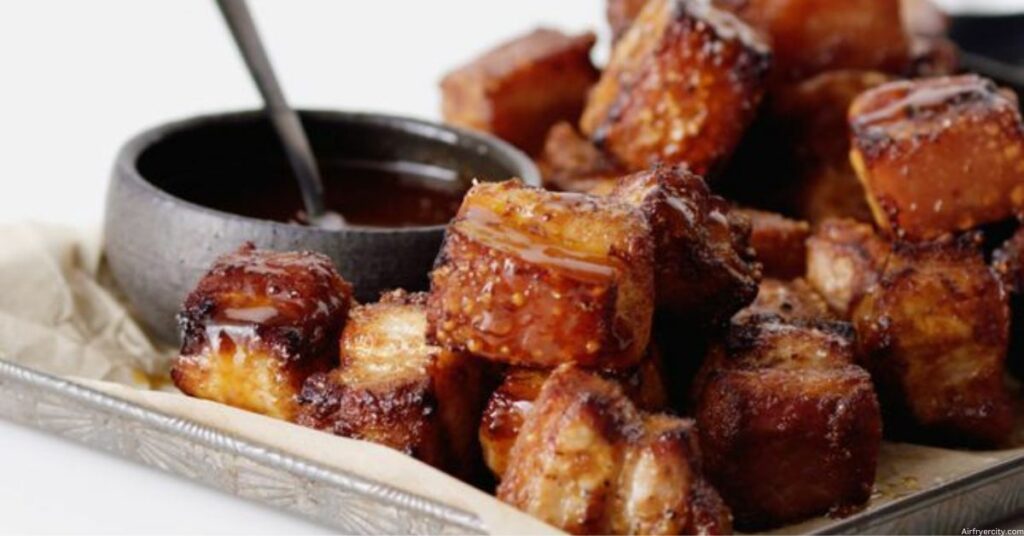 How to Cook Air Fryer Sticky Pork Belly Bites
Cut the boneless pork belly into 4cm pieces and place them in a shallow dish.
In a bowl, combine brown sugar, smoked paprika, plain flour, onion powder, and garlic powder. Sprinkle this mixture evenly over the pork pieces, tossing to coat. Place the dish in the fridge for 2 hours, without covering the pork with plastic wrap as it needs to dry out.
Preheat the air fryer to 200°C. Liberally spray the pork with olive oil and season well. Place half of the pork in the air fryer basket. Cook for 15 to 20 minutes, shaking the basket halfway through cooking, or until the pork starts to char and is cooked through. Transfer the cooked pork to a bowl and repeat with the remaining pork.
In the meantime, prepare the sticky golden syrup sauce. In a small saucepan over medium heat, melt the butter and add golden syrup, barbecue sauce, bourbon, and sriracha. Season and cook, stirring for 2 to 3 minutes until the mixture is smooth. Bring it to a simmer and let it simmer for 3 to 4 minutes until the sauce thickens. Remove from heat.
Drizzle the sticky golden syrup sauce over the cooked pork belly bites and serve.
Enjoy these mouthwatering air fryer sticky pork belly bites with the delicious golden syrup sauce!
Last update on 2023-11-30 / Affiliate links / Images from Amazon Product Advertising API
Conclusion
To sum it up, these air fryer sticky pork belly bites are the perfect combination of tender and crispy, with a delightful golden syrup sauce that will have your taste buds dancing.
These bite-sized treats make for a great appetizer or a main course that can be served alongside your favourite sides. The best part is that this recipe is easy to prepare, and the air fryer cuts down on cooking time without sacrificing flavour. Try it out and elevate your mealtime today!
Also See… Air Fryer Sticky Chicken Bites