We're an affiliate
We hope you love the products we recommend! Just so you know, we may collect a share of sales or other compensation from the links on this page. Thank you if you use our links, we really appreciate it!
This air fryer Indian tandoori chicken recipe is a simple and delicious way to enjoy a classic Indian dish with a healthier twist. With only four ingredients and six easy steps, you can make this flavourful dish in no time.
By using minimal oil and retaining the authentic flavours of tandoori paste and yoghurt marinade, this dish offers a guilt-free option for enjoying the rich and aromatic flavours of Indian cuisine.
Here's what you'll need:
8 chicken drumsticks
260g (1 cup) natural yoghurt
155g (1/2 cup) tandoori paste
Vegetable oil, for greasing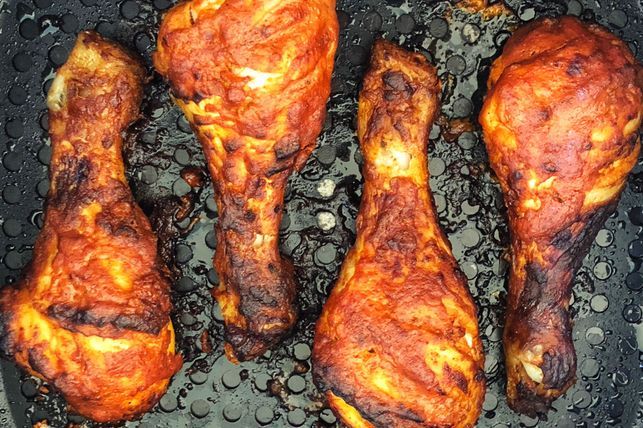 How to Make Air Fryer Indian Tandoori Chicken
Use a knife to cut two deep slits into the thickest part of each drumstick.
In a large bowl, combine the natural yoghurt and tandoori paste. Add the drumsticks and toss to coat evenly. Cover and place them in the refrigerator to marinate for 30 minutes.
Preheat the air fryer to 180°C (350°F) for 5 minutes. Brush the base of the air fryer basket with oil to grease.
Place 4 drumsticks into the basket, slit side down, and cook for 10 minutes.
Turn the drumsticks over and cook for an additional 5 minutes or until cooked through. Transfer to a plate and cover with foil to keep warm.
Repeat with the remaining drumsticks.
Enjoy your delicious, crispy and healthy air fryer Indian tandoori chicken!
Conclusion
To sum it up, this Indian tandoori chicken recipe is a delicious and healthier alternative to traditional methods of cooking this popular Indian dish. The air fryer helps to achieve a crispy exterior while maintaining the juicy and tender texture of the chicken.
Give it a try and impress your taste buds with this flavourful and nutritious Indian tandoori chicken recipe!
Also See… Air Fryer Frozen Chicken Legs