We're an affiliate
We hope you love the products we recommend! Just so you know, we may collect a share of sales or other compensation from the links on this page. Thank you if you use our links, we really appreciate it!
Can you cook frozen sausage rolls in an air fryer? The answer is YES! Air fryer frozen sausage rolls taste great and are very easy to make. This easy recipe makes it possible to enjoy delicious sausage rolls without having to turn on the oven.
Plus, an air fryer will cook your sausage rolls thoroughly on all sides without drying them out or overcooking them!
 Here's what you'll need:
You can use either mini frozen sausage rolls or larger varieties, the size of the sausage rolls will determine how long it takes to cook them from frozen.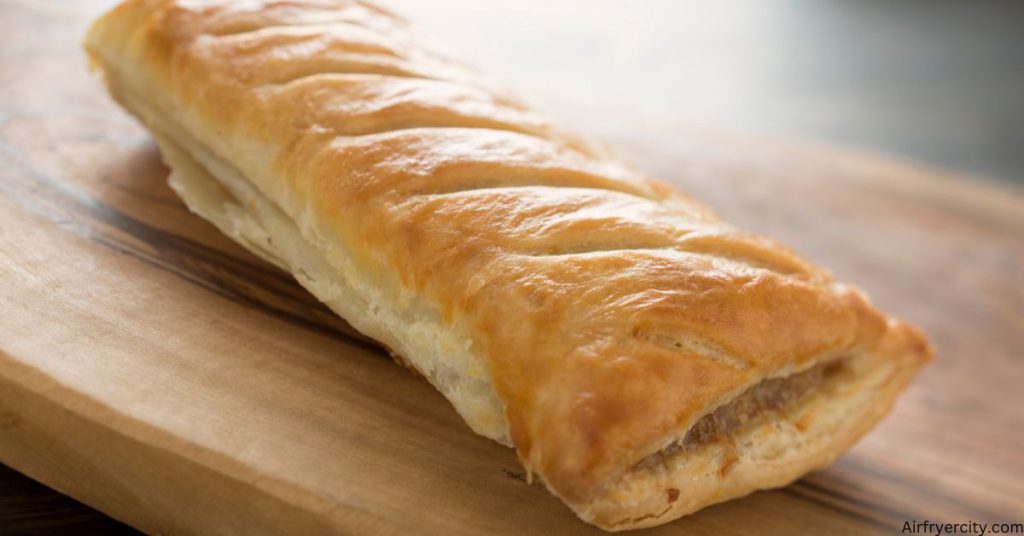 How to Cook Frozen Sausages Rolls in an Air Fryer
The first time you make this recipe, it's best to go slow and steady. This is because air fryers cook differently depending on the wattage of their motors and the size of their baskets. Some can cook quicker than others, so start with a slightly lower time and temperature until you figure out what works best for your air fryer.
Large Frozen Sausage Rolls – Air fry at 180C/360F for 18 to 20 minutes turning once halfway through.
Mini Frozen Sausage Rolls – Air fry at 180C/360F for 10 to 12 minutes turning once halfway through.
If at the end of the cooking time your sausage rolls are not golden brown, turn your air fryer temperature up to 200C/390F and cook for an additional 1 to 2 minutes.
Let the sausage rolls rest and cool for a few minutes, then serve and enjoy!
Extra Tips
Follow these tips for maximum results:
Leave a little space between the frozen sausage rolls so that hot air can circulate around them and cook them evenly.
To get a golden-brown colour on the outside of your frozen sausage rolls, brush them with some beaten egg or milk before you cook them.
Keep an eye on the sausage rolls as they cook so that they don't overcook and burn.
If you're not sure if your sausage rolls are cooked all the way through, use a meat thermometer.
Conclusion
Air fryer frozen sausage rolls are a delicious and easy-to-make treat. If you love sausage rolls, but don't want to heat up the kitchen with an oven, then this recipe is perfect for you!
View all of our other Air Fryer recipes Here