We're an affiliate
We hope you love the products we recommend! Just so you know, we may collect a share of sales or other compensation from the links on this page. Thank you if you use our links, we really appreciate it!
If you are looking for a quick and easy lunch or dinner option, look no further. These air fryer frozen chicken patties are the perfect solution. They're delicious, nutritious and ready in less than 10 minutes.
Chicken patties are basically ground-up chicken pressed into a patty, fully breaded and then frozen and sold in stores. This means that the frozen chicken patties in stores are pre-cooked, so all you have to do is warm them up. This recipe eliminates the need for oil, but still gives your breading that crispy outside texture you love!
Here's what you'll need:
Some brands of frozen chicken patties have "air fryer" instructions on their bags, but we found that those times and temperatures don't always give the best results. Follow the steps below to ensure your chicken patties turn out perfect every time.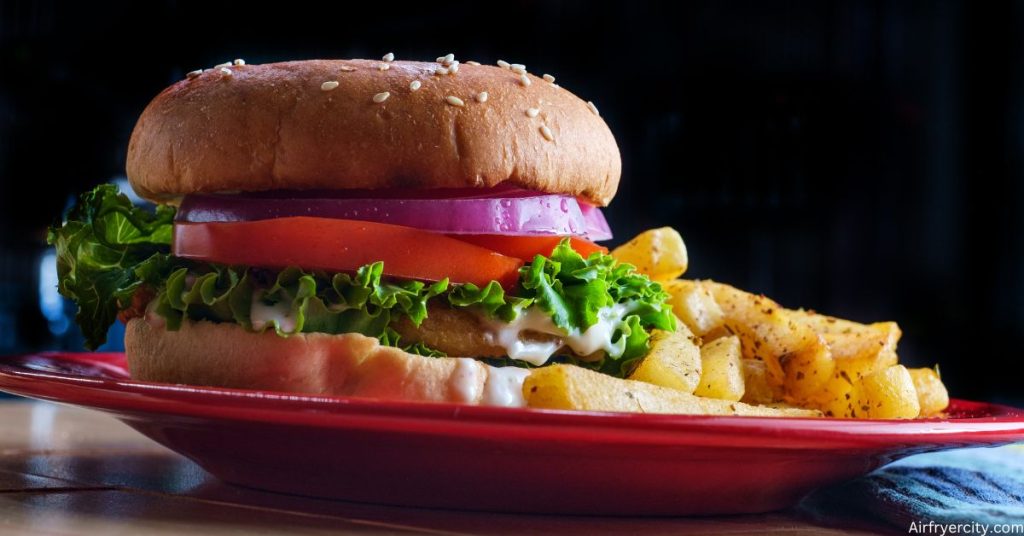 How to Make Air Fryer Frozen Chicken Patties
Preheat the air fryer to 400°F. This will ensure that the patties are cooked evenly.
Place frozen chicken patties in the air fryer, making sure to space them out so they don't touch.
Air fry the chicken patties for 7-8 minutes, flipping them once halfway through.
Put buns in the air fryer and cook for 1-2 minutes until crispy (if desired).
Place the chicken patties on the buns and serve them immediately. Or, store in the refrigerator for up to 3 days, using the reheating directions below.
Please note:
Since the chicken is pre-cooked, it's not necessary for it to reach 165°F.
How to Reheat Frozen Chicken Patties
Reheating chicken patties in an air fryer is far better than microwaving them. The breading stays as crispy as it was when they were first fried and they taste like you just cooked them for the first time!
Preheat your air fryer to 350°F.
Place the chicken patties in the air fryer, and cook them for 3 to 5 minutes until thoroughly warmed.
Toast the buns as stated above.
Serve immediately and enjoy!
Conclusion
We hope you'll enjoy this delightful frozen chicken patty recipe for a crispy chicken patty sandwich made with frozen, pre-made patties. It's quick, easy, delicious, and crisps up easily thanks to the magic of the air fryer. There's no doubt about it – the result is sure to please any crowd!
Also See… Air Fryer Frozen Burgers