We're an affiliate
We hope you love the products we recommend! Just so you know, we may collect a share of sales or other compensation from the links on this page. Thank you if you use our links, we really appreciate it!
Instead of deep frying, try cooking these air fryer cauliflower cheese bites for a fuss-free and less oily option. They are perfect as a snack or side dish, especially when drizzled with sauce. The smoky seasoning adds a delightful barbeque flavour.
This recipe is not only delicious, but it's also incredibly easy to make. You'll have a tasty dish ready to serve in no time.
Here's what you'll need:
2 eggs
1 cup panko breadcrumbs
1/2 cup finely grated parmesan
2 tsp smokey chipotle seasoning
1/2 cauliflower (about 450g), cut into small florets
Cheesy sauce:
20g butter
2 garlic cloves, finely chopped
1/2 cup sour cream
1 1/3 cups perfect pizza cheese (130g)
1 green shallot, trimmed, thinly sliced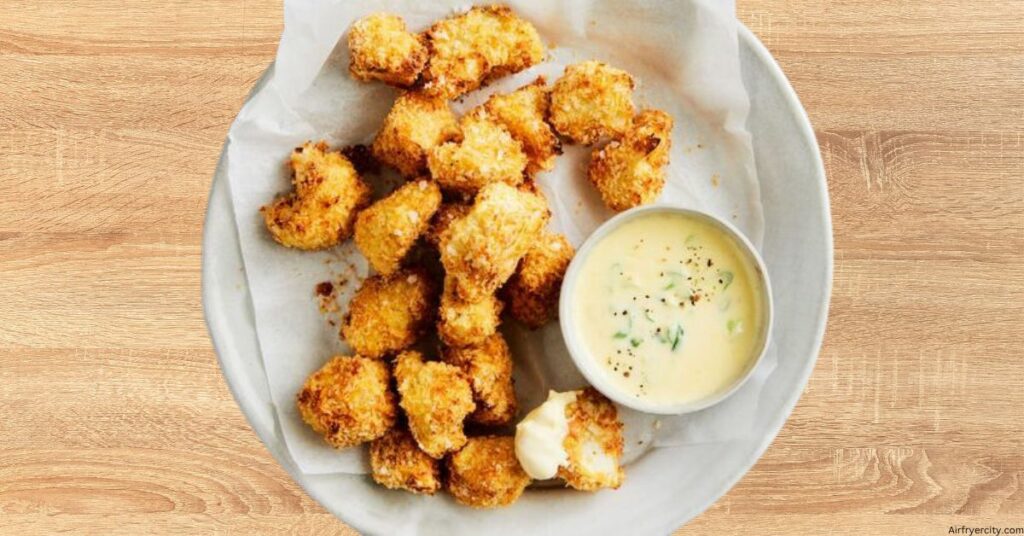 How to Cook Air Fryer Cauliflower Cheese Bites
Whisk the eggs in a bowl. In a separate bowl, combine the breadcrumbs, parmesan, and seasoning. Working in batches, dip the cauliflower in the egg mixture, then in the breadcrumb mixture, pressing firmly to coat.
Transfer the crumb-coated cauliflower to the basket of an air fryer. Spray with oil. Cook for 12 minutes at 180°C., turning and spraying with oil halfway through cooking, or until the bites are crisp.
To make the cheesy sauce, melt the butter in a small saucepan over medium-high heat until foamy. Add the chopped garlic. Cook, stirring, for 30 seconds or until aromatic. Stir in the sour cream and cheese. Cook, stirring, for 2-3 minutes or until the cheese melts.
Transfer the cheese sauce to a heatproof serving bowl and sprinkle with green shallot slices. Serve immediately with the cauliflower bites.
Enjoy your homemade air fryer cauliflower cheese bites with the delicious cheesy sauce!
Last update on 2023-11-30 / Affiliate links / Images from Amazon Product Advertising API
Conclusion
In conclusion, these air fryer cauliflower cheese bites are a flavourful and healthier alternative to traditional deep-fried snacks. With a crisp coating and a creamy, cheesy centre, they make for a delightful appetizer or side dish.
By using an air fryer, you can enjoy the indulgent taste of cheesy cauliflower bites without the excess oil. So, give this recipe a try and impress your family and friends with a delectable and guilt-free treat!
Also See… Air Fryer Sticky Chicken Bites