We're an affiliate
We hope you love the products we recommend! Just so you know, we may collect a share of sales or other compensation from the links on this page. Thank you if you use our links, we really appreciate it!
Bake these delicious air fryer mince pies to simplify your life and save time. With this easy recipe, you can prepare a full batch beforehand and refill your cake tin as needed throughout the festive period.
These treats are sure to delight your taste buds and can be ready in no time. This recipe can serve 8-12 people.
Here's what you'll need:
500g shortcrust pastry (ready-made or homemade)
Plain flour, for dusting
350g mincemeat (vegetarian if necessary)
1 egg
Icing sugar, for dusting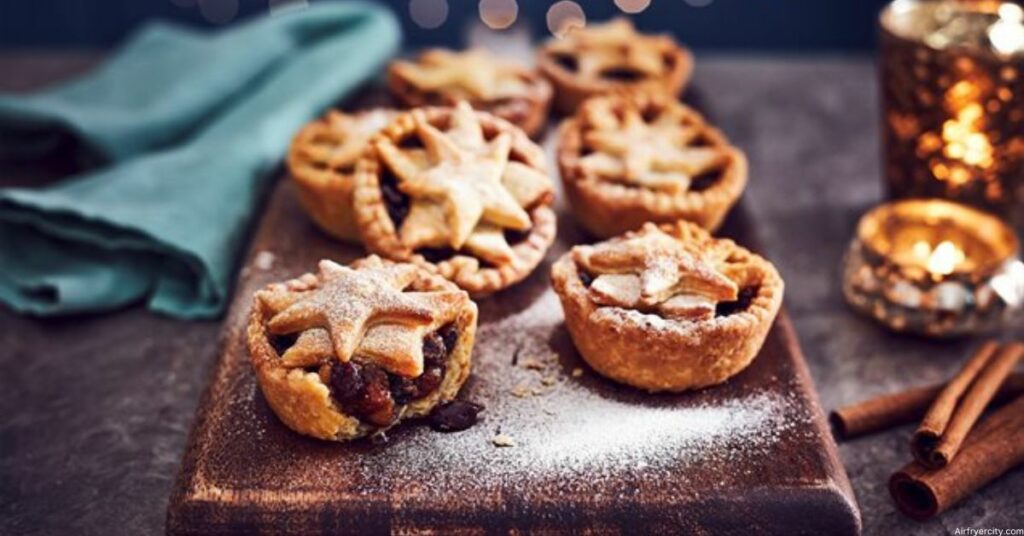 How to Make Air Fryer Mince Pies
On a lightly floured surface, roll out the pastry until it is approximately ½cm thick. Use an 8-10cm round biscuit cutter to cut out as many discs as possible. Re-roll the offcuts and cut out more discs, using up as much pastry as you can.
Spoon 1 tbsp of mincemeat onto the middle of half of the pastry discs. From the remaining pastry discs, cut out small stars or festive shapes from the middle of half of them and set them aside.
Beat the egg and lightly brush it around the edges of the pastry discs with the mincemeat. Place the remaining discs on top, some with the stamped-out shapes and some without. Brush a little egg wash over each pie and stick the leftover stars on top of the plain pastry pies. Also, brush the stars with the egg wash. Poke a small hole in the top of each covered pie to allow steam to escape during cooking.
Use a fork to seal the edges of the pies by pressing around the edge, or make a small neat crimp by pinching with your fingers. Arrange the pies on a plate or baking tray and chill them for at least 30 minutes. They can be frozen for up to two months.
Preheat the air fryer to 180°C. Line the air fryer basket with a square of baking parchment and place the pies on top, cooking as many as you'd like at a time. Cook for 8-10 minutes, then turn the mince pies and cook for an additional 2-3 minutes (or 13-15 minutes if cooking from frozen). The pies should be golden brown and steaming hot. Allow them to cool for 5 minutes, then dust them with icing sugar and serve. The pies can be stored in an airtight container for up to two days.
Enjoy your homemade air fryer mince pies!
Party in an Air Fryer
This best-selling 160-page spiral-bound guide includes photos for every recipe and it lies flat to make it that much easier for you to prepare crispy, crunchy food!
You'll find guilt-free recipes for everything from onion rings and mozzarella sticks to roasted vegetables and juicy chicken!
Plus, get pro tips for using your air fryer and genius hacks for making your favorite recipes even better.
Pidgin English (Publication Language)
Last update on 2023-11-30 / Affiliate links / Images from Amazon Product Advertising API
Conclusion
In conclusion, air fryer mince pies offer a delicious twist on a traditional holiday treat. With their crispy golden crust and flavourful mincemeat filling, these pies are a delightful addition to any festive gathering.
By using an air fryer, you can achieve the perfect balance of texture and taste, making these pies a convenient and healthier option compared to traditional cooking methods.
Whether enjoyed warm straight from the air fryer or served later, air fryer mince pies are sure to be a hit with family and friends during the holiday season.
Also See… Air Fryer Black Pudding