We're an affiliate
We hope you love the products we recommend! Just so you know, we may collect a share of sales or other compensation from the links on this page. Thank you if you use our links, we really appreciate it!
Air fryer frozen meatballs are the perfect snack, not only are they quick and easy to cook, but they're also delicious. Crispy on the outside and juicy inside, these meatballs taste great with your favourite sauce or dip.
You can use these meatballs in all kinds of ways: serve them as an appetizer at your next party, use them as an after-school snack for kids, serve as part of the main meal or make them for movie nights. Also, you won't be using any oil, so these meatballs are healthier and still very flavourful.
Here's what you'll need:
Store-bought frozen meatballs come in a variety of sizes, so you may need to adjust your cooking time slightly depending on the size of your meatballs.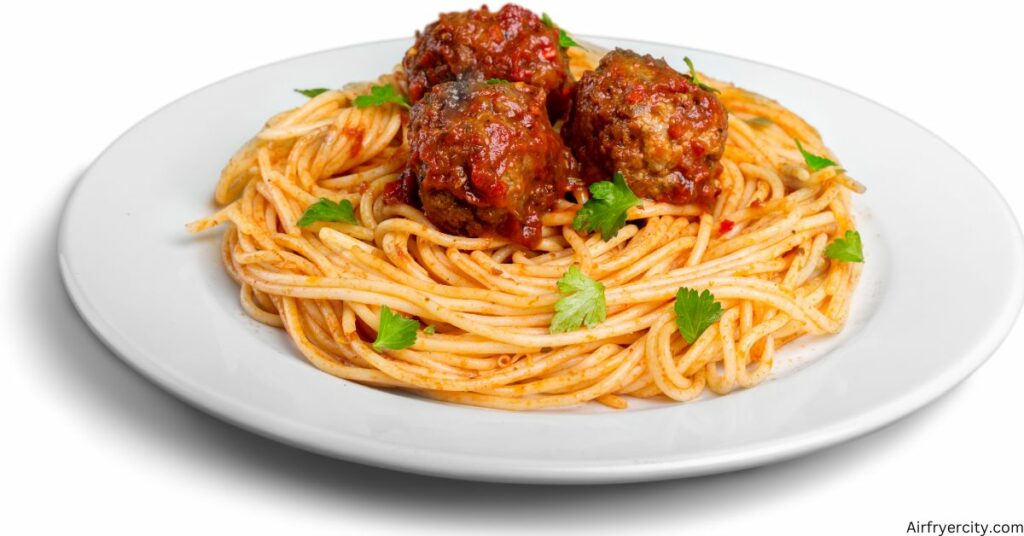 How to Cook Frozen Meatballs in an Air Fryer
Preheat your air fryer to 400°F/ 200°C.
Put frozen meatballs inside the air fryer basket in a single layer, and cook in batches if you need to.
Cook for 9-11 minutes or until the tops are golden brown. Shake the basket or turn the meatballs halfway through the cooking time.
Serve and enjoy!
Extra Tips
Follow these tips for maximum results:
Don't overcrowd the air fryer basket. Place frozen meatballs in a single layer, leaving a bit of space between each one, so the air can circulate and cook all sides evenly.
Because air fryer temperatures can vary depending on the make and model, we recommend starting with less cook time and adding more as needed.
This recipe can be used to cook frozen chicken meatballs, turkey meatballs, Swedish meatballs or vegan meatballs.
Conclusion
Overall, these air fryer frozen meatballs are delicious and perfectly cooked without added oils. You can experiment with different herbs and spices to suit your own tastes. They are great with marinara sauce, BBQ sauce, spaghetti or zucchini noodles. You and your family will surely enjoy these!
View all of our other Air Fryer recipes Here