We're an affiliate
We hope you love the products we recommend! Just so you know, we may collect a share of sales or other compensation from the links on this page. Thank you if you use our links, we really appreciate it!
Most people and families love sausages, they are another great dish as you can eat them any time of the day and they go well with many other popular dishes. People ask… Can you cook sausages in an air fryer? The answer to this is YES. You will never go back to using old methods again.
Sausages cooked in an air fryer are a great alternative to regular methods like grill, oven or frying pan, they are not greasy as if you were to fry them in oil or butter, and they are much healthier as you use no oil, sausages cooked in an air fryer are delicious!
Air frying is perfect for cooking sausages because it means there is no chance of splattering hot fat all around the kitchen and making your clean up a lot less of a chore, saving you a lot of time at the end.
How to Cook Sausages in an Air Fryer?
This method we are going to share with you will make sure that you get your perfect desired results every time.
Method:
Pierce the sausages: Piercing some holes in the sausage with a fork or the tip of a sharp knife will prevent the sausage from exploding, ensuring even cooking to give you better results.
Place the sausages into your air fryer: Place them into the air fryer basket in a single layer and avoid stacking them on top of each other.
Cook the sausages: We recommend that you cook them at 360 F / 180 C. Cook for 6-7 minutes, then shake the basket or flip the sausages, and cook them for 6 more minutes. Add a few minutes if you like your sausages crispier and darker golden brown.
The exact cooking times can vary a little depending on the model of your air fryer.
Tips:
If you are cooking quite a few sausages, we recommend that you spray the basket with a little bit of oil to prevent any sticking.
If your cook smaller or thinner sausages, they will take less time compared to thicker, raw sausages.
The All-in-One Fried Cookbook
We hope that you find this method helpful if you want to cook sausages in an air fryer, leaving little to no mess, even your kids can get involved and cook their favourite snacks.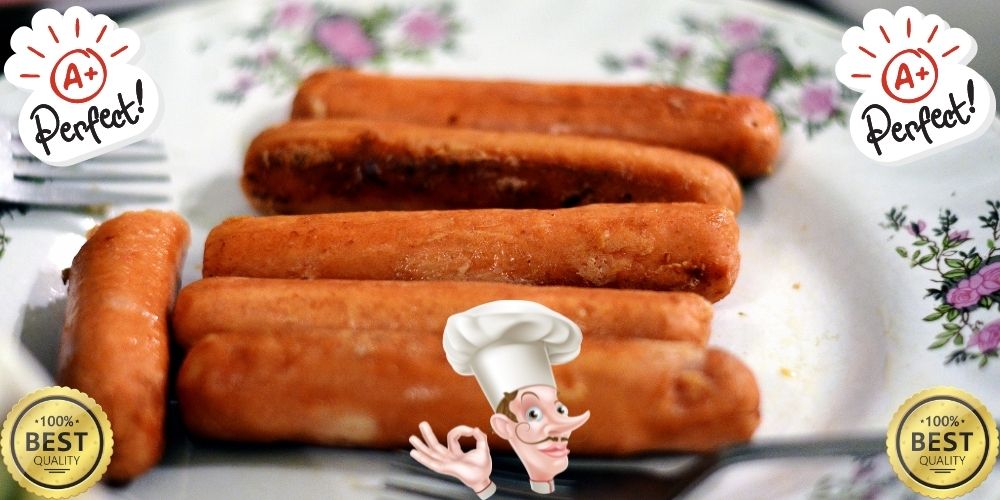 Also See… Can You Fry an Egg in an Air Fryer? All You Need to Know